What is a Centralised Vacuum Cleaning (CVC) System?
A centralised vacuum cleaning system is a fixed network of pipes around a factory with strategically placed plug-in points for hoses and cleaning tools with product conveyed to a self-cleaning filter plant and single point of dust collection.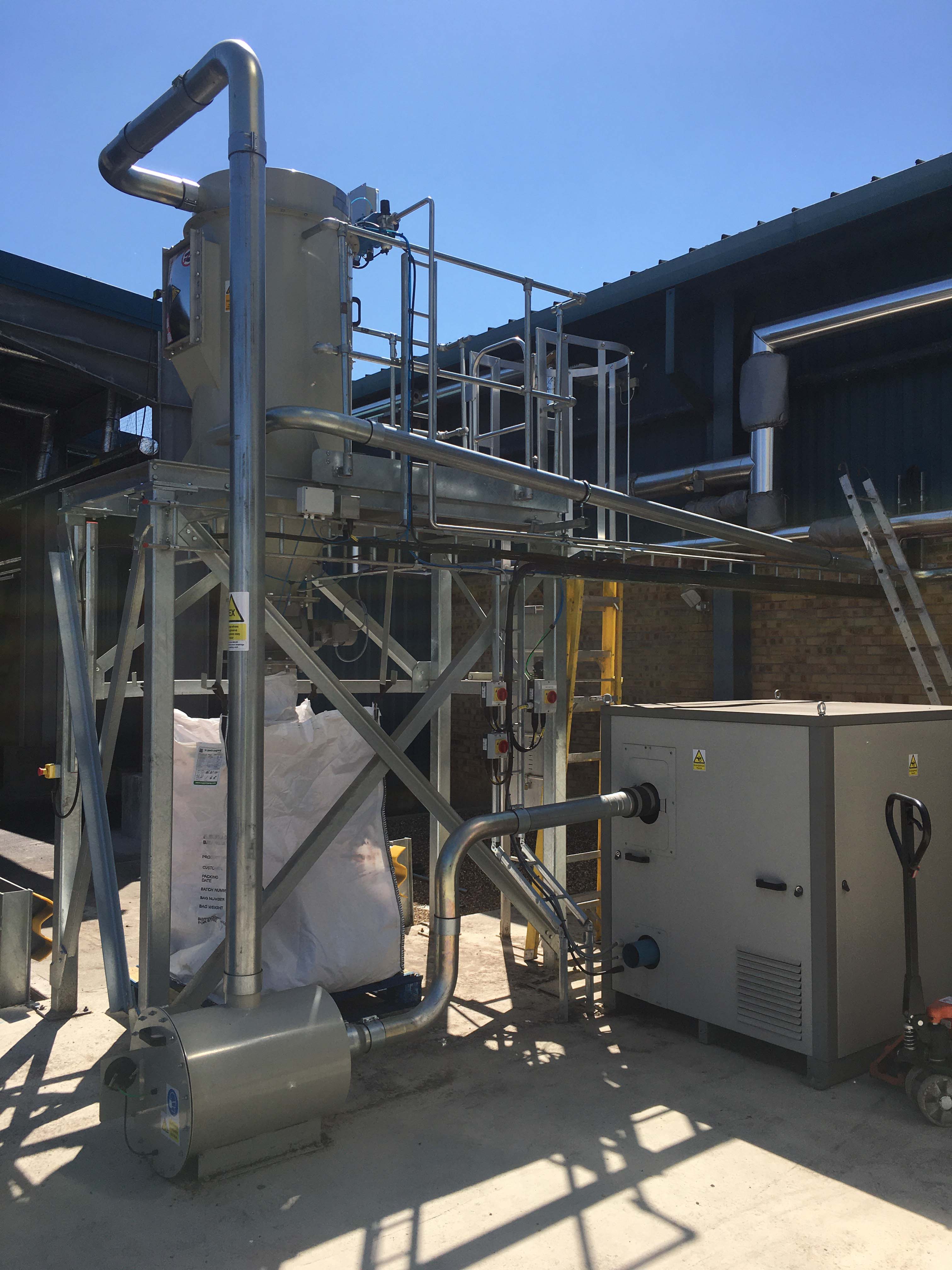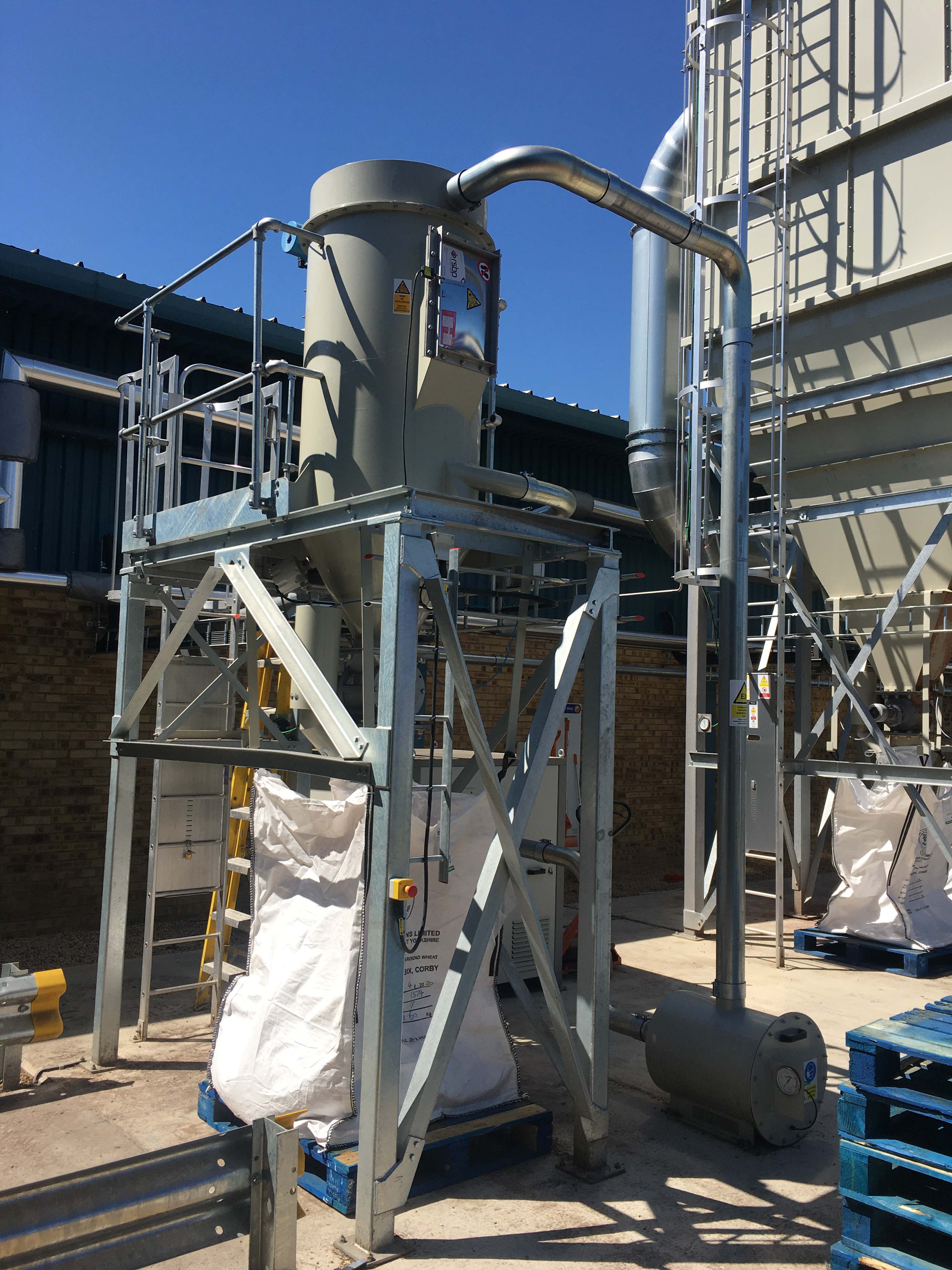 What does a CVC system consist of?
Integral to a Centralised Vacuum Cleaning System is the self-cleaning filter plant. This central product collection point utilises compressed air to purge the filter elements inside the unit meaning no loss of suction, more consistent performance, and a very long filter lifespan. The Kerstar filter units (KCVU) utilise state of the art cleaning systems along with conical filter technology to offer the highest performance in terms of efficient cleaning, handling of high dust loads, energy efficiency, longevity of components and consistent suction.
Where can a CVC system be used?
It can be used in all industries that create dust or granules as part of their processing, utilise bulk handling of powders or granules, or have fugitive emissions / spillages of these types of products. The system can be used to effectively clean the whole factory including floors, platforms, machinery etc…
What are the benefits of having a system in place versus stand-alone vacuums?
A centralised vacuum cleaning system has multiple benefits compared to stand-alone vacuums:
Manual handling is reduced as machines are not required to be moved or carried around the factory and up staircases etc… Operators simply plug a hose into the nearest vacuum point

Performance is optimised due to the self-cleaning filter plant meaning more consistent air flow and efficient suction

Higher suction rates are possible compared to portable vacuums

Filter change of individual vacuum units is not required

Product collection capacity is far greater than individual vacuum units

Product collection is in a centralised place no matter how many users are operating

Manual handling of collected product is reduced or even eliminated with the optional automated discharge system
Kerstar's Filter Unit (KCVU)
At the heart of Kerstar's Centralised Vacuum Cleaning System is the Kerstar Filter unit (KCVU), a dust collector range which has been purposely designed for use with centralised vacuum cleaning systems. Utilising circular steel construction, the range is suitable for high vacuum applications up to and over -0.5 Bar(g). It is also well suited for hygienic applications due to its curved surfaces, making it an extremely popular solution for food and pharmaceutical applications. It utilises well proven 120mm conical cartridges and automatic cleaning technology which offers superior performance compared to traditional dust collectors. The units are extremely compact and have high filtration and energy efficiency, along with the ability to handle high dust loads. Automated compressed air cleaning of the filter elements ensures optimal performance at all times and negates the need for manual cleaning / frequent filter change. Available with a wide range of options including ATEX compliancy, it can be tailored to suit any requirement.
Features:
Rugged carbon steel painted or stainless-steel construction (all grades)

Filter area from 6.4 to 19.2m²

Suitable for between one and six users at any time

Collection bin as standard with optional plastic liner

Optional steelwork support and discharge valve for FIBC / skip filling enabling high capacity collection

-0.5 to + 0.6 Bar(g) operating pressure rating (higher available on request)

Up to 1 Bar(g) pressure shock resistant (PSR) as standard

Differential pressure (clean on demand) controller option

ATEX options with integral explosion relief (horizontal, vertical and a flameless option for indoor use)

Optional bin isolation valve for on-line emptying

Secondary HEPA filter available for protection of exhauster unit
Benefits:
High operating vacuum and pressure suitability

Hygienic design

High efficiency and low emissions to atmosphere which guarantees air quality, protects personnel and ensures compliance with regulations (always check local regulatory requirements)

Conical filter technology for enhanced cleaning - prolongs life of the filters, reduces compressed air consumption and offers more consistent performance