What is an explosive atmosphere?
The European Commission states "A potentially explosive atmosphere exists when a mixture of air gases, vapours, mists, or dusts combine in a way that can ignite under certain operating conditions."
If there is a sufficient concentration of gases, mists, vapours, or dust, mixed with air, an ignition source can cause an explosion. There are many potential workplaces which may contain or produce potentially explosive atmospheres, for example food environments where fine dusts such as flour are created, along with production environments where sugar, fine plastic powder, light metal powder and textiles are used.
In these environments an ATEX rated vacuum cleaner should be used. Due to their special construction, the creation of an ignition source is avoided, and maximum operational safety is guaranteed. The Kerstar product range has a variety of protection ratings for various potentially explosive zone areas. Kerstar's ATEX vacuum cleaners also include Type H rated products that are suitable for hazardous dusts - these vacuum cleaners can be used in environments where there is a combination of explosive and hazardous dusts.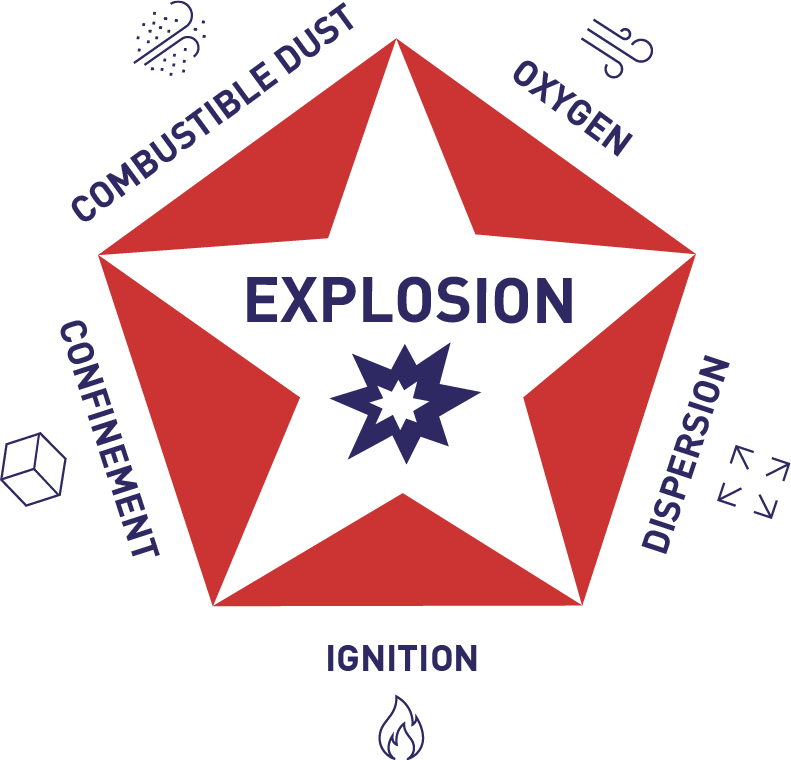 What does ATEX mean and what are the directives?
ATEX stands for "Atmosphères Explosibles". ATEX is the name given to the two following European Directives for controlling explosive atmospheres:
ATEX Directive 2014/34/EU covers equipment and protective systems intended for use in potentially explosive atmospheres. This Directive defines the essential health and safety requirements and conformity assessment procedures that need to be applied before products are placed on the EU market. In force from 20 April 2016, it replaces the previous Directive 94/9/EC.

ATEX Workplace Directive 1999/92/EC covers the minimum requirements for improving the level of health and safety protection of workers potentially at risk from explosive atmospheres.
UKCA 'Ex' (UKEX) Regulations - The UK's ATEX Equivalent
With the end of the transition period for the UK moving outside of Europe, the ATEX directive is superseded within the UK by the "Equipment and Protective Systems Intended for use in Potentially Explosive Atmospheres Regulations 2016". The UK directive is otherwise referred to as UKEX, or UKCA Ex. Kerstar's ATEX products will be suitable in both Europe and the United Kingdom; where units that have technical files lodged in the EU, will likewise have technical files lodged in the UK under a different notified/approved body. The new UKCA regulations published by the UK government can be downloaded here as a pdf. All products maintain the same degree of safety, and are now subject to more testing and certification.
How do you know if your Kerstar vacuum cleaner is ATEX approved?
Every Kerstar ATEX approved vacuum cleaner is marked with a ratings plate as shown here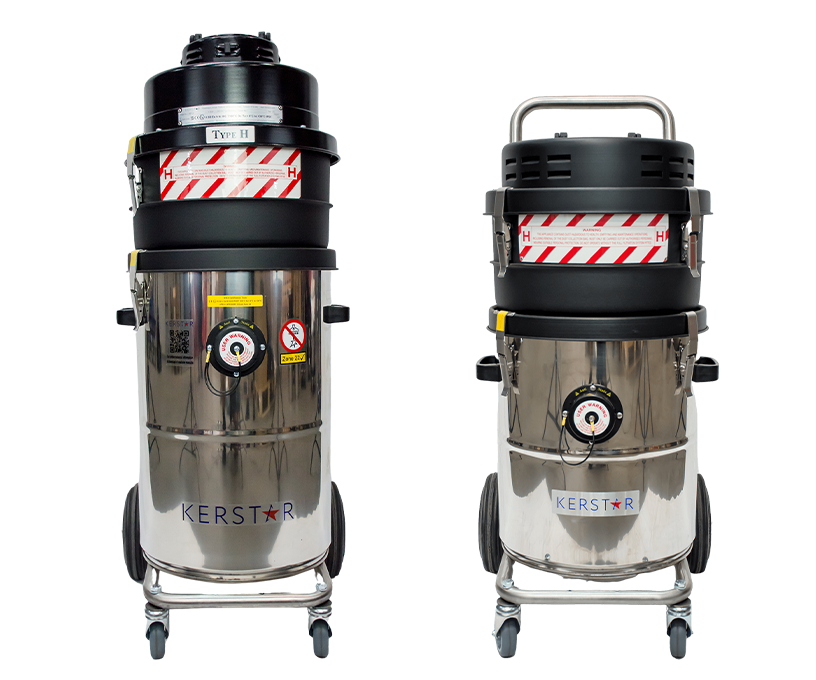 The rating plate gives the precise information about this product, including:
Name and address of manufacturer
Manufacturers model or type number
The Serial Number (For example 10B 123 - made in February 2010 number 123)
Year of manufacture, assembly or construction
The and mark
symbol. The distinctive community mark showing a product is suitable for use in a potentially explosive dust and or gas atmosphere
II - Equipment group II (surface industries)
3 - Category 3 product
D - Explosive dust atmosphere (Zone 22)
Ex - Assessed against Harmonised European Standards
h - Mechanical equipment according to EN 80079-36
tc - Level of protection for electrical equipment (for EPL De)
IIIC - Conductive dusts
T100oC - Surface temperature less than 100oC for dust evaluation
De - IECEx Equipment Protection Level
Weight - Weight of the unit
KEVA - Kerstar Electric Vac ATEX
It is possible to use higher category equipment in a lower category requirement, for example category 2 equipment can be used where category 2 or 3 equipment is required.
Our ATEX vacuums adhere to strict health and safety requirements and are supplied with an earth path continuity certificate.
To find out more about ATEX in the UK visit the Health and Safety Executive here.
Unsure if the dust being handled is explosive? You can check using the IFA explosion characteristics of dusts here. The link opens up a widely regarded database giving important combustion and explosion characteristics of more than 4600 dust samples from virtually all sectors of industry.
| | | | |
| --- | --- | --- | --- |
| Gas zone | Dust zone | Equipment group | Dust zone definition |
| 1 | 21 | II Category 2 | A place in which an explosive atmosphere in the form of a cloud of combustible dust in air is likely to occur in normal operation occasionally |
| 2 | 22 | II Category 3 | A place in which an explosive atmosphere in the form of a cloud of combustible dust in air is not likely to occur in normal operation but, if it does occur, will persist for a short period only. |